Down Quilts, Pillows, Cushions & Mattress Toppers
---
Covid 19 Impact Update

The health and safety of all our customers and staff is our highest priority and commitment during this time.
In accordance with the Victorian Government Stage 4 Stay At Home Restrictions we are not able to manufacture products during this lockdown.
Most stocked products are available online only and will be despatched 5 to 10 business days with Australia Post.
Our rejuvenation & cleaning service is not available during the victorian stage 4 lockdown.

We thank you for your understanding and support during this time.




All our down & feather suppliers and processors are members to
The International Down And Feather Bureau (Est 1953 Paris).
Feather Factory quilts, pillows and cushions is one of different brands produced by Danish Eiderdowns in Australia for Australian consumers since 1972.
No Down is processed / imported from China.
Feather Factory Orders
Click Links Below

Feather Factory Quilts and Down Pillows come with our 45 years experience in the down and feather industry in Australia.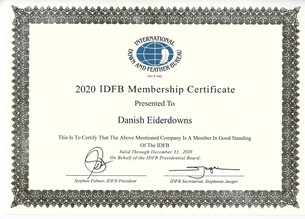 Down Blends, Ethics, Standards and Manufacturing

All our down suppliers are members of The International Down and Feather Bureau (EST Paris 1953).

Our Down selections are tested by IDFB
- certified member International Down & Feather Testing Laboratory Europe , USA.
All quilts, pillows and cushions are filled in our Australian factory to consumers and retailers requirements from imported materials.
Down standards used include JIS ( Japanese Standard ), EN ( European Standard ) and USA 200 Standard.
All comply with Australian Standards.
No filling used is processed and / or imported from China.

IDFL European Down Class 1 - EN 12934 Test Report ( Click Here )

IDFL Australian Standard - AS2479 Test Report ( Click Here )



Our Most Popular Authentic Recognised Down Selections:
Goose Down

All Goose Down ( including Hungarian origin and Polish origin downs ) are processed to JIS (Japanese Industrial Standard ), EN ( European Standard ) and USA 2000 standard to retailer and consumers requirements.
No Down is processed / imported from China.


Duck Down

Always a very popular requested filling for use in down products.


Warmth - Buyers Guide
Australia
- Warmth guidance selections.


1 - Summer
2 - Summer Plus


3 - Spring / Autumn
4 - Spring / Autumn Plus


5 - Winter
6 - Winter Plus


7 - Winter Ultimate




USA
- Fill power guidance preferred.
Either International Standard ( IDFB ) or European Standard , Japanese Standard accepted.


Europe - Class 1 Down & Feathers
- New standard in most European countries EN12934 label with a composition tolerance of 9.9%.



Down Filling / Fill Power

Down percentage and fill power ( warmth measurement / Insulation ) are the most commonly used standards worldwide.


Tog rating as used in Great Britain is a warmth rating only. It does not relate to down quality.
Tog rating should display authentic BS4745-1990 label on product.


Downproof / Casing

100% cotton fabric recommended
The lighter weight fabric , the greater the warmth without weight for better comfort.
1. Walled / Channelled style - fully adjustable for all seasons.
2. Ring / Dimple stitch style - fully adjustable for all seasons.
3. Cassette ( walled / boxed) style - popular with hotels - adjustment restrictions
4. Feather Bed / Decken style - true European down ballon duvets.
Click Here to see style selections.


All Down Pillow & Quilt Products feature -

Hypo Allergenic treatment
Our Down selections are tested by IDFB's certified member IDFL (International down and feather testing laboratory, Europe and USA).
Oeko - Tex 100 Ecologically Safe guarantee textile label
Humane practice of animal welfare laws as per The International Down & Feather Burea (non live plucking)